Young Bird Fledglings Experience Life Away from the Nest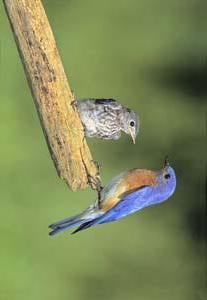 This summer, parents across the country will spend countless hours with their children, taking them to places they've never seen before. The same can be said for the millions of wild bird families that will be introducing their young fledglings to a whole new world of experiences.
People who only feed the birds during the winter will miss out on many fun and fascinating wild bird "family life" activities. Full feeders provide an opportunity to see adult birds as they take some time away from the duties of raising their young.
By mid-summer, fledglings will begin leaving the nest and are being fed and taught to eat from feeders by their parents, a fascinating interaction to observe.
Fledgling Facts
Here are some characteristics and behaviors to look for when watching these baby birds as they begin to leave the nest:
Fledglings are about the same size as adults, but often their plumage color is muted and similar to adult females.
In some species, fledglings' tails are shorter than the adults', because the tail feathers are still growing.
You can recognize Downy and other woodpecker fledglings by their fresh and dapper plumage, whereas that of the adults is worn and dusky from their repeated trips in and out of the nest hole.
Chickadee fledglings follow their parents to the bird feeder and perch nearby as the parents go to get food. They either wait, looking like they are waiting to be served, or they call incessantly "teeship teeship" and flutter their wings until fed.
After one to three weeks, the parents stop feeding their fledglings and may even peck at them if they persist in begging for food to get them to feed themselves.
It's a perfect time to see a lot of interesting bird activity. In some instances, bird family behaviors resemble human family behaviors.
Are you our next great employee?
The difference between Wild Birds Unlimited and other retailers goes far beyond what we sell. It's who we are. Enthusiasm, professionalism, informed advice and superior customer service are the hallmarks of our staff.
We are seeking a Sales Associate with great retail and service skills. Working at your locally owned Wild Birds Unlimited store is an opportunity to support and educate our friendly customers about birds and nature.
Our Sales Associates work with other staff, including the owner, to bring to life the store's mission – "We Bring People and Nature Together®…And We Do It With Excellence!" To that end, we provide training with regard to backyard bird feeding, bird watching and product knowledge.
Requirements:
Previous retail experience preferred, but not required.
Ability to lift and carry seed for our customers – a foundation of our service!
Part-time work available. A flexible schedule and the ability to work weekends are required.
Our goal is to provide quality products, service, expertise and a high energy shopping experience. Help customers bring nature into their own backyards and lives. Come join our team!